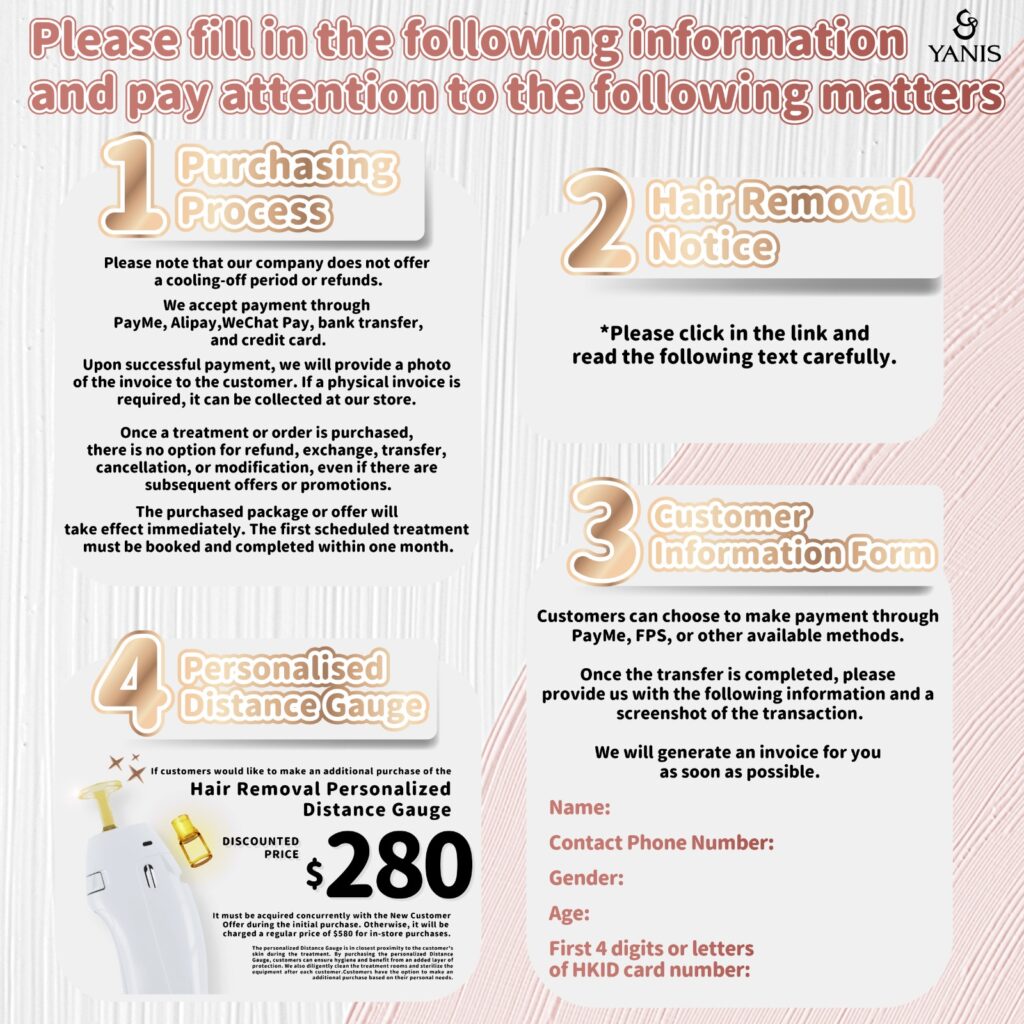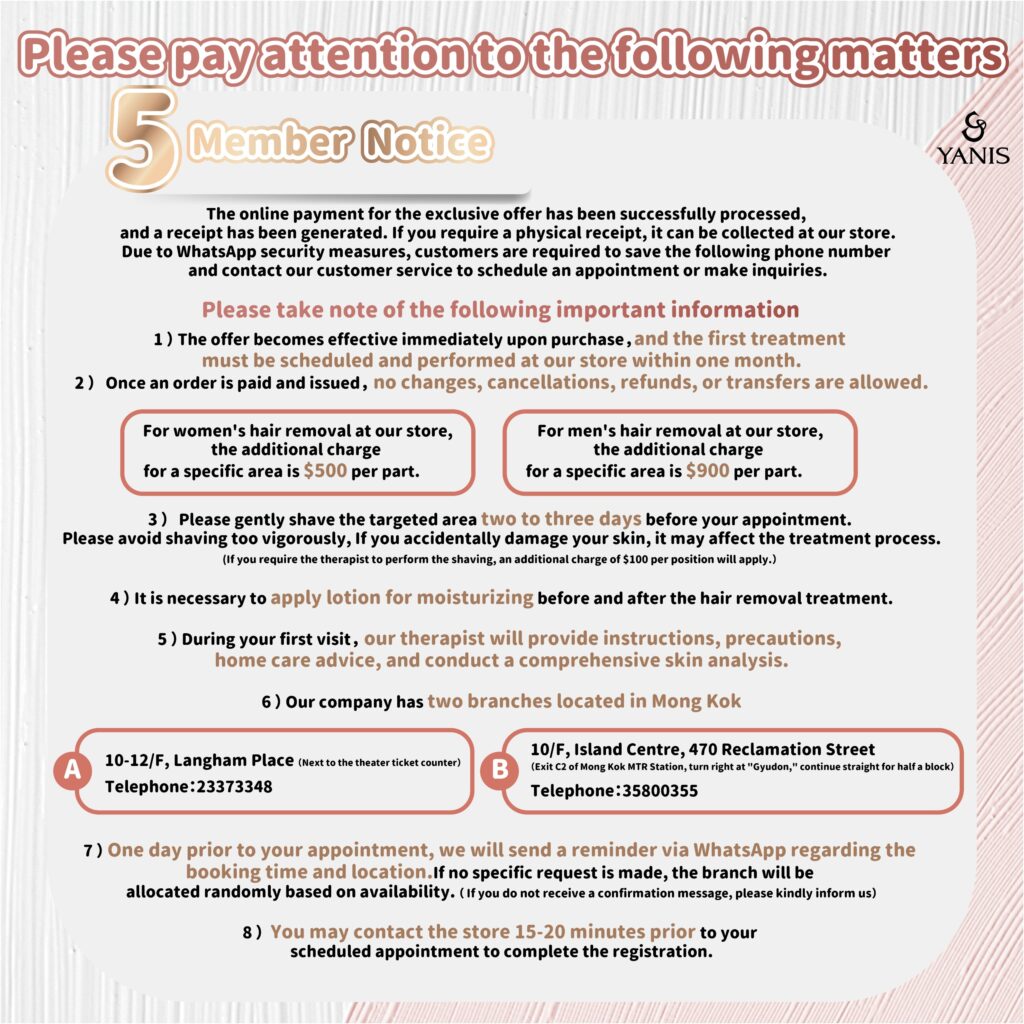 *Please fill in the following information and pay attention to the following matters*
1️. Purchasing Process
-Please note that our company does
not offer a cooling-off period or refunds.


-We accept payment through

PayMe, Alipay, WeChat Pay, bank transfer, and credit card.


-Upon successful payment, we will provide a photo of the invoice to the customer. If a physical invoice is required, it can be collected at our store.
-Once a treatment or order is purchased, there is

no option for refund, exchange, transfer, cancellation, or modification

, even if there are subsequent offers or promotions.
-The purchased package or offer will take effect

immediately

. The first scheduled treatment must be booked and completed within

one month

.
2️. Hair Removal Notice:
Please read the following text carefully.
Laser Hair Removal Treatment Guidelines and Post-Treatment Care
3️. Customer Information Form
Customers can choose to make payment through PayMe, FPS, or other available methods. Once the transfer is completed, please provide us with the following information and a screenshot of the transaction.
We will generate an invoice for you as soon as possible
Name:
Contact Phone Number:
Gender:
Age:
First 4 digits or letters of HKID card number:
4️. If customers would like to make an additional purchase of the
Hair Removal personalized Distance Gauge

can enjoy a discounted price of $280. It must be acquired concurrently with the New Customer Offer during the initial purchase. Otherwise, it will be charged a regular price of $580 for in-store purchases. (The personalized Distance Gauge is in closest proximity to the customer's skin during the treatment. By purchasing the personalized Distance Gauge, customers can ensure hygiene and benefit from an added layer of protection. We also diligently clean the treatment rooms and sterilize the equipment after each customer. Customers have the option to make an additional purchase based on their personal needs).
5️. The online payment for the exclusive offer has been successfully processed, and a receipt has been generated. If you require a physical receipt, it can be collected at our store.
Due to WhatsApp security measures, customers are required to save the following phone number and contact our customer service to schedule an appointment or make inquiries:
1) The offer becomes effective immediately upon purchase, and the first treatment must be scheduled and performed at our store within
one month.
2) Once an order is paid and issued, no changes, cancellations, refunds, or transfers are allowed.
-For women's hair removal at our store, the additional charge for a specific area is
$500 per part

.
-For men's hair removal at our store, the additional charge for a specific area is

$900 per part

.
3) Please gently
shave the targeted area two to three days before

your appointment. Please avoid shaving too vigorously, If you accidentally damage your skin, it may affect the treatment process. (If you require the therapist to perform the shaving, an additional charge of $100 per position will apply).
4) It is necessary to
apply lotion for moisturizing before and after the hair removal treatment.
5) During your first visit, our therapist will provide instructions, precautions, home care advice, and conduct a comprehensive skin analysis.
6) Our company has two branches located in
Mong Kok

:
A: 10-12/F, Langham Place, (Next to the theater ticket counter) Telephone: 23373348
B: 10/F, Island Centre, 470 Reclamation Street, Mong Kok (Exit C2 of Mong Kok MTR Station, turn right at "Gyudon," continue straight for half a block) Telephone: 35800355
7)
One day prior

to your appointment, we will send a reminder via WhatsApp regarding the booking time and location. If no specific request is made, the branch will be allocated randomly based on availability.(If you do not receive a confirmation message, please kindly inform us).
8) You may contact the store
15-20 minutes

prior to your scheduled appointment to complete the registration.
Service Hours:
Monday to Friday: 12:00 PM – 9:00 PM
Saturday: 11:00 AM – 7:00 PM
Sunday and Public Holidays: Closed21